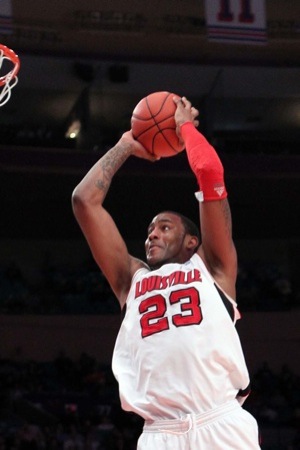 Posted by Jeff Borzello
On the surface, Louisville's 73-69 victory over Syracuse came as a result of a 34-6 run and 13 3-pointers from the Cardinals.
Perimeter shooting from Louisville is a given, though, with five players hitting at least 39 percent from behind the arc. Throw in the fact that Syracuse decided to play its patented 2-3 zone against them, and it was almost inevitable that the Cardinals would heat up from long-range.
The key going forward for Louisville is going to be Terrence Jennings and his ability to be consistent on the interior.
Jennings finished with a solid 13 points and seven rebounds, outplaying Rick Jackson, who finished with single-digits in points and rebounds for just the third time this season. Jennings was especially effective on the offensive end, corralling five boards and demonstrating a post repertoire that we have not seen too often from him. He showed off a jump hook, aggressiveness on the offensive glass and a willingness to get himself open for buckets.
During one particularly impressive two-minute stretch in the first half, Jennings had four offensive rebounds and six points. Moreover, to start the second half, Jennings had seven points in the first 1:54.
At that point, Jennings had 13 points and five rebounds, and Louisville was up 49-32. After that, he was a ghost.
In the final 18:06 of the game, Jennings had zero points, two rebounds and Syracuse ended up making a huge run and lost by just four.
Notice a correlation? It wasn't just today's game.
In games Jennings scores in double-figures, Louisville is 10-2. In games he scores in single-digits, the Cardinals are just 8-4. Not a huge difference, but when the gap between No. 1 and No. 11 in the Big East is only a couple of games, it could be a factor.
Arguably the biggest win of Louisville's season was its road victory at Connecticut; not surprisingly, Jennings totaled 16 points, 10 rebounds and four blocks.
With injuries to Rakeem Buckles, Jared Swopshire and Gorgui Dieng, Jennings has been by himself in the paint for much of the season. While that has likely played a role in his inconsistencies, Jennings is going to need to continue his stellar play down the stretch.
In his last five games, Jennings is averaging 14.2 points and 7.8 rebounds.
Preston Knowles, Peyton Siva and the rest of the Cardinals' perimeter contingent are going to be constants throughout the season – but Jennings gives them the inside option needed to hang with the rest of the Final Four threats.
Photo: AP