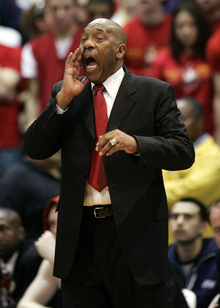 Posted by Eric Angevine


Illini fans have waited more than twenty years for the other shoe to drop on Bruce Pearl. Most current fans weren't even born when Pearl, an Iowa assistant at the time, secretly recorded a phone conversation that launched an NCAA investigation into basketball recruiting at Illinois. The fact that the current UT coach was unoficially blackballed from DI coaching for years afterward did nothing to blunt the ire.
Perhaps they're just
following the lead of Jimmy Collins
(right), the recently retired Illinois-Chicago head coach who was the primary target of Pearl's whistle-blowing as an Illinois assistant back in the day. He hasn't forgotten.
"Now that Bruce got caught doing what he was probably doing all the time, he thinks it's OK to say, 'I made a mistake.'" Collins told USA Today last September, when the UT scandal first began to see daylight. "If I sound a little angry, I'm not angry anymore. God has taken care of that for me. But for me to say, well, I'm going to take the high road and say I feel bad for Bruce, my nose would start growing like Pinocchio."
Collins was cleared by the NCAA, but the investigation still found major violations in the Illinois program that led to a 1991 postseason ban.
Collins lived through the scandal, and there are plenty of college hoops fans 40-something or above who remember this as an event in their adult lives. What about a younger generation of Illini fans?
I turned immediately to a couple of writers I know who are Illinois grads. One,
Dan Hanner
, told me that he was ten years old and lived in Minnesota when the scandal happened, and that he bears no ill will toward Pearl. The other person who immediately responded to my query was
Will Leitch
, founder of Deadspin and current
New York Magazine columnist
. As a teen living in Illinois in the late 80's, Leitch was more aware of what Pearl did, and how the investigation effected the school that was to be his alma mater. Here is his emailed response in full:
There are Illini fans who found the most satisfying tournament win during the Final Four year not the comeback win over Arizona, but the trouncing of Wisconsin-Milwaukee and Bruce Pearl. We watched Pearl's ascension the last few years, the look-at-me faux charm, the ingratiation with ESPN personalities, the car salesman hustler, knowing that eventually, the world would see the real Bruce Pearl, the one we remember from 20-some-odd years ago, the snake. He tried to straighten up and fly right, pretend he was someone other than the slimy bullshi**er he always was, but a man can not change his nature. There's no schadenfreude for Tennessee; I feel bad for them. But we all knew this day was coming. It's Bruce Pearl, after all.
You'll always get a measured take from Will Leitch. I also heard from Kevin Kaplan, editor of the
Daily Illini student newspaper
. He said:
I'd say it's definitely something that a lot of today's students know about. I remember I first heard about the Bruce Pearl history when Illinois met UW-Milwaukee in the 2004-05 NCAA tournament. These days, if a freshman enters U of I and doesn't know the history, there's a pretty good chance they will discover it by the time they graduate if they follow college basketball. Any time his name comes up in casual sports conversation (which is a fair amount because Tennessee is a relevant program and because of his recent allegations) there's usually someone who brings up the past, and the history spreads that way.


For raw fan reaction, try sifting through the 500+ posts on the "
Bruce Pearl is officially a liar and a cheat
" thread at IllinoisLoyalty.com. They've got your schadenfreude.
The irony (or, to some, inevitability) of Pearl being caught in the same trap he laid for another years ago is one of the more interesting facets of this case. Leitch is right, in the end, to feel sad for UT fans. It is the faithful fans, and worst of all the athletes who play the game, who stand to lose more than Pearl ever will.
Photo: US Presswire