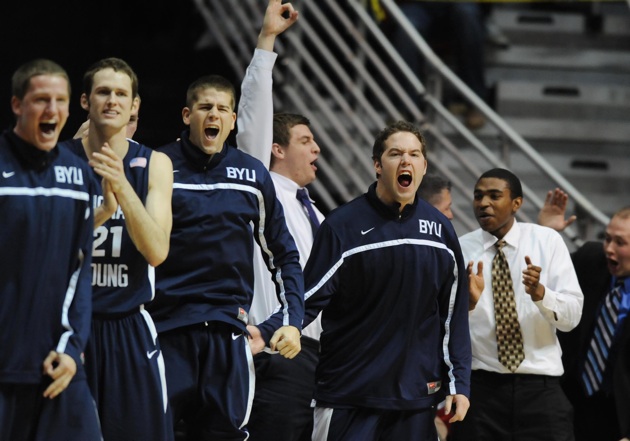 Posted by Jeff Borzello
It's not just Jimmer Fredette and the Fighting Jimmers anymore.
BYU proved on Saturday that it is a team capable of making a run to the Final Four with its road win at San Diego State, 80-67.
Fredette had 25 points and his usual assortment of impressive finishes and jaw-dropping jump shots, but it was his nine assists that really opened some eyes.
Not counting Fredette, the Cougars went 10-for-16 from behind the 3-point line, with Charles Abouo knocking down four triples en route to 18 points and nine rebounds.
Noah Hartsock was key in the first half, finishing with 15 points, while Fredette's season-long sidekick, Jackson Emery, went for 13 points.
Fredette's supporting cast doesn't get nearly enough credit for what it provides. The consensus is that BYU is an easy out if Fredette has an off night. Well, he shot just 8-for-23 from the field today and turned the ball over five times. His teammates picked up the slack, making timely shots down the stretch to prevent a San Diego State comeback.
BYU improves to 27-2 on the season, and now has the inside track towards a regular-season title. Meanwhile, San Diego State drops to 27-2 – with its only two losses come against BYU.
Of course, with the NCAA Tournament on everyone's mind, the biggest question revolves around how this result impacts Selection Sunday.
The Cougars was in the hunt for a No. 1 seed heading into the game, but now they are right in the thick of things. They are 4-0 vs. the top-25, 8-1 vs. the top-50 and are an impressive 14-2 away from. Throw in a top-five RPI, and their profile compares favorably with the other candidates.
As for San Diego State, the Aztecs are likely out of the top-seed race. Moreover, they drop to second-place in the conference, meaning they might have to face conference tournament host UNLV in the semifinals. Don't drop San Diego State too far, though. In both of the Aztecs' losses, they have been victims of superhuman efforts. In the first meeting, Fredette scored 43 points, while the Cougars were unconscious from 3-point range today.
The key for SDSU going into the game was to force Jimmer into a tough day offensively. The Aztecs did that – and still lost.
Beware, BYU's NCAA Tournament foes. This is a team now.
Photo: US Presswire