Posted by Jeff Borzello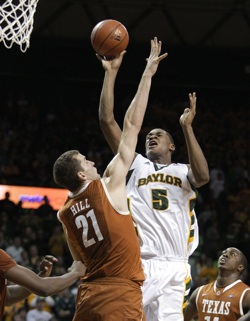 Heading into a must-win Big 12 tournament game against Oklahoma on Wednesday, Baylor needed all available resources.
According to reports, though, the Bears will be without starting forward Perry Jones.
A source told Jason King of Yahoo! Sports that Jones was suspended by the NCAA for the rest of the season for allegedly accepting impermissible benefits.
Baylor is reportedly looking at appealing the decision.
Adam Winkler of KEYE TV in Austin first tweeted that Jones was suspended for tonight's game, while 610 Sports in Kansas City cited TV reports saying that Jones might be done at the school for accepting benefits.
Jones, a 6-foot-11 freshman, is averaging 13.9 points and 7.2 rebounds per game this season. He is projected as a top-five draft pick by some mock drafts.
Baylor, which is on the wrong side of the bubble right now, likely has to make a run to the conference title game in order to get an at-large bid. In Jones' absence, Fred Ellis and J'mison Morgan will get more minutes in the frontcourt.
The school has yet to release a statement regarding Jones' status.
Photo: AP