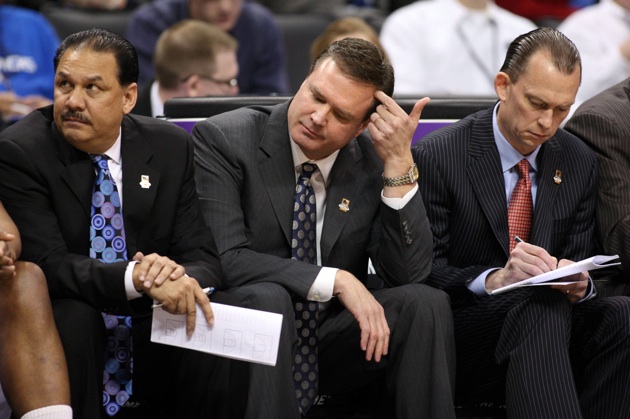 Posted by Jeff Borzello
SAN ANTONIO – Maybe there's something to the idea that Kansas overlooks opponents and disappears in big games.
The Jayhawks looked loose heading into Sunday's regional final against VCU, and came out of the gate on a tear.
Then VCU punched back – and Kansas was befuddled. The Jayhawks simply did not handle the pressure well, and couldn't recover until it was too late.
"I think we understood this year, you couldn't look ahead," Kansas guard Brady Morningstar said.
Sure, that's what he told the media, but it certainly didn't look like that on the court. Kansas did not seem ready for VCU's response.
They were looking around at each other for answers. Bill Self was shuffling players in and out of the game. Nothing worked.
As a result, Bill Self is now 1-5 in Elite Eight games. For the second consecutive year, Kansas has been bounced earlier than expected by a lower-seeded mid-major team.
The Jayhawks' players said all week that they were treating every opponent from here on out as a No. 1 seed.
VCU played like a No. 1 seed; Kansas didn't.
"If we played shirts and skins today, you wouldn't have much of a difference on players or how they look," Self said. "They got what they deserved today. They certainly outplayed us."
VCU was knocking down 3-pointers, attacking the rim, playing aggressive half-court defense.
That's what Kansas usually does, but the Jayhawks were lost at both ends of the court on Sunday. Their shots weren't falling and they could not adjust to VCU's perimeter shooting.
Like last season, Kansas won the Big 12 title, finished with a gaudy record and earned a No. 1 seed in the NCAA Tournament.
Like last season, the Jayhawks fell short when it mattered.
"It's hard for me to say this was a special season," Self said. "We did a lot of good things, but we didn't accomplish what we set out to accomplish."
It wasn't Self's fault that the Jayhawks shot 2-for-21 from 3-point range or only received three points from their usually reliable bench.
However, it's tough to ignore the 1-5 record in regional final games, or the current reputation his teams have. As my colleague Matt Norlander pointed out earlier, Kansas' modern-day legacy is this: Bucknell, Bradley, Northern Iowa, VCU.
Four NCAA tournament games in which Kansas entered as a heavy favorite.
Four NCAA tournament games in which Kansas didn't rise to the occasion and lost.
"It was just one of those days," guard Tyrel Reed said.
Under Self, though, "one of those days" seems to happen far too often.
Photo: US Presswire