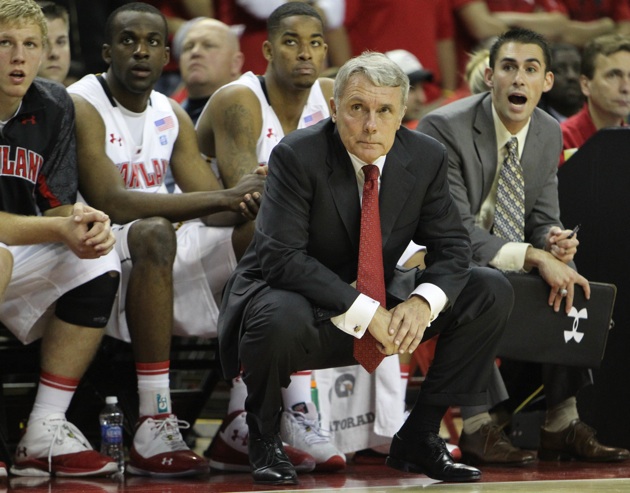 Posted by Jeff Borzello
As first reported by Jeff Goodman of Foxsports.com and confirmed by Gary Parrish of CBSSports.com, Maryland head coach Gary Williams is retiring.
Williams turned Maryland into a consistent national player during his 22 years in College Park, helping the Terrapins reach 14 NCAA tournaments in the last 18 years. They made seven Sweet 16 appearances and won a national championship in 2002.
Since the title, though, Maryland has fell back in the ACC pecking order. The Terrapins have not reached the Sweet 16 since 2003 and underachieved in Williams' final season, going just 19-14 overall.
"It's the right time," Williams said in a statement. "My entire career has been an unbelievable blessing. I am fiercely proud of the program we have built here. I couldn't have asked any more from my players, my assistant coaches, the great Maryland fans and this great university. Together, we did something very special here."
This is going to be a difficult loss for the entire program.
Despite his distaste for the "underbelly" of recruiting, Williams was bringing in a very solid freshman class and seemed prepared to lead the Terrapins back to the NCAA tournament.
"Gary Williams is a legend," athletic director Kevin Anderson said. "His accomplishments on the court have earned him a place among the elite in college basketball history."
Williams coached at American, Boston College and Ohio State before going to Maryland, compiling an overall record of 667-376 in 33 seasons.
The other aspect of this, of course, is the coaching carousel. It just started spinning again.
Maryland will be a highly sought-after job in the coaching industry, due to its prime location between Baltimore and Washington D.C., long thought to be one of the nation's most fertile recruiting basis.
Expect the athletic program to pursue marquee names to bring in as Williams' replacement.
This hasn't been a good week for the Maryland, as the Williams news comes on the heels of the Terps losing their best player to the NBA draft.
Forward Jordan Williams, who averaged 16.9 points and 11.8 rebounds last season, has signed with an agent. He announced he was testing the waters in late March, and the common school of thought was he did not intend to return to College Park.
The decision became official on Wednesday.
"We wish Jordan well as he pursues his dream of playing in the NBA," Williams said in a statement.
Now, not only do the Terrapins have to replace their best player, they have to do it with a new coach.