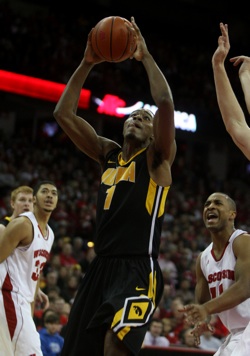 Kentucky vs. Louisville occupied most of the college basketball world's attention during the early part of Saturday afternoon, but it was another result that caught everyone's eyes.
Wisconsin lost. At home. To Iowa.
You read that right. For the first time since Bo Ryan took over at Wisconsin, the Badgers lost a home conference opener. The Badgers are normally unbeatable at home, but they fell 72-65 to a 9-6 Iowa team that lost by 16 at home to Campbell earlier this season.
Wisconsin shot just 35 percent from the field, including 3-for-28 from 3-point range. Jordan Taylor was 7-for-19 shooting the ball. The most surprising part about the game was Wisconsin's defense, or lack thereof. Iowa shot 49.2 percent from the field and outrebounded the Badgers.
Heading into Saturday, Wisconsin had the nation's best defensive efficiency and ranked No. 13 in defensive rebounding percentage, only allowing second chances on 25.7 percent of possessions. Yet Iowa grabbed 37 percent of its misses and scored 1.09 points per possessions. The Badgers were allowing fewer than 0.79 PPP going into the game.
It's not time to write Wisconsin off or anything like that. After all, it's still 2011 and no one ever wants to see a Bo Ryan-coached team line up across the court from them. However, when the Badgers' defense isn't extremely effective, they really struggle to win. All three of Wisconsin's losses came in its three worst defensive games of the season, and the Badgers simply don't have the firepower offensively to make up for it.
Jordan Taylor has received more defensive attention this season, and he has struggled to adapt at times. He also isn't getting consistent help. Tonight, Ben Brust and Jared Berggren combined to shoot 10-for-30 from the field, including 1-for-14 from 3-point range.
As for Iowa, it goes without saying that this is a huge win. The Hawkeyes came close to knocking off Purdue during the week, but they got over the hump on Saturday. Melsahn Basabe had 14 points and nine rebounds, while Bryce Cartwright and Aaron White combined for 35 points off the bench. Roy Devyn Marble came up big down the stretch, hitting a couple of important jumpers.
This game further muddles the Big Ten pecking order. Who is the second-best team in the league, after Ohio State?
After Saturday, it's tough to say Wisconsin.
Photo: US Presswire