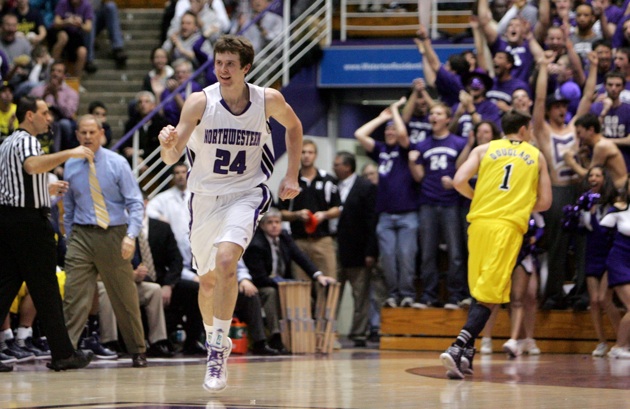 Northwestern could really boost its at-large hopes with a home win over Ohio State on Wednesday. (US Presswire)
There are no top-25 matchups on Wednesday night, but there are plenty of opportunities to get marquee wins. Plus, conference tournaments. What more can you ask for?
Note: All times are Eastern, and the rankings are according to the AP poll.
Best game: Iowa State at No. 7 Missouri (8 p.m., ESPN3). If you're looking for a couple of teams who do the most without having a lot of size, look no further. Both teams utilize four perimeter players most of the time, with Iowa State relying heavily on Royce White to make plays for himself and teammates and Missouri utilizing a lot of penetration and dishing. The key in this one will be Iowa State's ability to keep Ricardo Ratliffe from getting a lot of easy baskets in the paint, and Missouri guarding Iowa State's plethora of shooters.
Second-best game: No. 8 Marquette at Cincinnati (7 p.m., ESPN2). After Cincinnati's late loss to South Florida on Sunday, the Bearcats still need to do some work in order to get an at-large bid. A home win over the top-10 Golden Eagles would certainly do the trick. Marquette is getting plenty of hype as a sleeper Final Four team, and the battle on the perimeter on Wednesday night should be fun. It will be interesting to see how Jae Crowder and Yancy Gates battle each other. Can Gates get out and guard Crowder on the perimeter? Can Crowder body up with Gates?
Another one to watch: No. 10 Ohio State at Northwestern (8:30 p.m., Big Ten Network). This is basically a must-win for Northwestern. The Wildcats missed out on its big chance last week against Michigan, and now need a marquee win for their ledger. Ohio State is reeling right now, having lost three of its last five games to drop to third place in the conference standings. Northwestern won't be able to stop Jared Sullinger down low, but the Wildcats' host of 3-point shooters – and John Shurna – could create problems at the other end.
Guaranteed win: New Mexico beat Air Force by 39 on the road the last time the two teams played. This time, the rematch is at The Pit (8 p.m., Mountain). The margin might not near 40 points again, but the Lobos should roll. Moreover, Texas-Arlington will look to stay undefeated in the Southland by hosting Texas A&M-Corpus Christi (8 p.m.). Corpus Christi is 5-23 on the season, and won't pull the major upset.
Potential upset: Colorado State has ignited its at-large hopes on the strength of two big wins over San Diego State and New Mexico. Can the Rams complete the Mountain West trifecta with a win over No. 17 UNLV on Wednesday night (10 p.m.)? A victory would certainly put them in good shape heading into the conference tournament. To pull the upset, they need to slow down the game and defend the perimeter more effectively than they have recently.
Three things to keep an eye on:
Plenty of conference tournament action on Wednesday night. The Atlantic Sun, Patriot and Ohio Valley kick things off, while the Big South continues.
Must-wins for bubblers: Saint Joseph's at St. Bonaventure (7 p.m.); Dayton at Richmond (7 p.m.); Mississippi State at South Carolina (8 p.m., ESPN3); Miami (Fl.) at North Carolina State (9 p.m., ESPN3); Texas hosting Oklahoma (9 p.m., ESPN2). Alabama, Purdue and Southern Miss would also be smart not to lose.
South Florida has a chance to get a big win for its resume on the road at No. 19 Louisville (7 p.m., ESPN3).
More College Basketball coverage